NX CMM Inspection Programming
Complete solution to create CMM neutral inspection programs and data analysis in CAD environment.
Dramatically reduce programming time (up to 80 percent reduction)
Create programs offline without using a physical part or machine
Simplify software deployment footprint (single system for CAD, CAM and CMM)
Ability to automatically create programs from PMI
Data analysis in 3D CAD environment
Industy standard DMIS output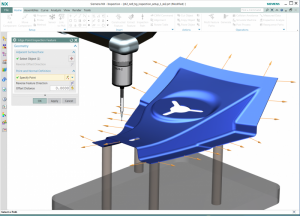 The CMM Inspection Programming module fills the gap between the design and production. By seamlessly sharing and verifying dimensional quality information, your manufacturing engineers are better able to plan for quality. Once this information (PMI) is verified, it can be used to automatically define inspection routines for CMM processes on your shop floor. The programming is done in the already used, well know NX 3D CAD environment. You can further automate the programming process by applying your own standard inspection path methods, tools and project templates. Inspection programming time can be reduced up to 80% by using the automatic method of NX CMM Inspection Programming. The measured data cad be fed back directly to the design software, where the designed and measured values can be compared.
The CMM Inspection Programming module enables enterprises to close the loop between the mechanical design, production planning and the shop floor.  The foundation of the process is to use the same environment to design parts and create inspection programs, skipping the model translation. This approach speeds development time and reduces cost in your production environment.
Main advantages of CMM Inspection Programming
Offline, automatic inspection program generation
Graphical analysis capabilities, where the measured values can be compared to the industry standards
Design features and tolerances are automatically joined to the paths of the inspection program through the integration of the 3D CAD environment
CMM Inspection Programming Features
Integrated CAD environment
NX CMM is integrated into the NX 3D environment, thus the functions can be accessed in the same way as any other feature. This high level integrity enables you to use the new module comfortable since the firs time in a well known environment.
Offline inspection program definition
Manual program creation can be leveraged to rapidly create highly accurate inspection programs directly from a 3D solid CAD model.
Automatic program generation lets you automatically generate inspection features, tolerances and inspection paths from PMI on the CAD model, even across multiple features. Collision avoidance methods identify interferences and automatically resolve them.
Graphical Analysis
Visualize. With NX CMM's data analysis capabilities, you can quickly see and evaluate your "as-built" measurements in a graphical environment, right next to the "as-designed" models that drive your CMM inspection programs. Putting the measurement results into context helps you find the most effective approaches to achieve quality improvements.
Analyze. CMM measurements are read back into NX as .mea or .dml files. They are compared to the measured data, including the associated tolerances according to ANSI Y14.5, ASME Y14.5 or ISO 1011 standards. Measurements are displayed in the operation navigator as a list and linked to the graphical display for each measurement. Best-fit analysis and verification help you find the possible causes of tolerance failure and assist in decision-making that will improve component quality.
Program output
DMIS Output. The CMM Inspection Programming creates industry standard DMIS program. The DMIS can be executed on the machine directly, or through the CMM Ispection Exectution software.
Customized Output. Enables you to write custom postprocessors using the TCL language to generate programs for specific CMM languages.
Integrated solution
Design change control enables you to use associativity to quickly update programs and immediately reflect design changes.
Process and data management enables you to leverage Teamcenter to ensure that you are always working with the correct file version, as well as to manage your data and processes. You can use these capabilities to easily share setups, programs and postprocessors with your entire team – regardless of a team member's geographic location.
For further information, please visit the Siemens PLM – NX CMM site here.