Issue Management and CAPA
Issue management within Teamcenter: streamline your product-defect based interventions
Teamcenter® software solution for Issue Management and Corrective and Preventive Actions (CAPA) provides an enterprise-wide solution for capturing various forms of complaints, defects and non-conformances providing a formal process to systematically investigate, analyze and resolve these issues while streamlining the definition of measures to prevent future reoccurrences and reporting the results in a simple, intuitive user experience.
Improve problem resolution times and increase executive visibility
Make smarter decisions by reusing knowledge captured and documented within Teamcenter
Gain insight into deliverables through full traceability and relationships to any issue
Reduce IT investment by eliminating the need for other systems for tracking issues
Intuitive, web-based user experience which can be tailored to your specific needs
Impact the cost of quality
Built on your PLM foundation, Issue Management and CAPA can interrogate the full spectrum of control points including design, production and process, documents, materials, facilities and equipment. This broad information domain allows your CAPA teams to find and validate root causes faster without the delays of searching other systems for critical data or the additional risk that can be introduced through manual processes.
Simple user experience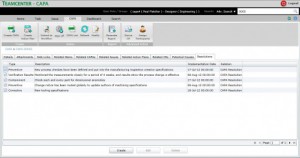 The Teamcenter user experience supports a wide range of users and the CAPA solution adds to this suite with an extremely simple web-based user interface dedicated to the issue definition and resolution process. The CAPA user interface has been tuned to be very efficient to meet the needs of quality users participating in the issue identification and resolution processes.
Issues and corrective actions and preventable actions
The corrective and prevention process is managed by a CAPA business object. The CAPA object and process manages the resolution of the issue, independent of the issue itself. The advantages of different objects include:
Shielding the corrective measures from the issue, if that is desired by your company.
Resolving multiple issues/complaints by a single CAPA, reducing the need to replicate information or duplicate efforts.
Addressing a single issue with multiple resolutions, each managed by a separate CAPA business object.
For further information, please visit the Siemens PLM – Issue management and CAPA site here.